How to Import Contacts from Outlook
These step-by-step instructions will show you how to import your contacts from Outlook 2000.
1. Export your contacts to a CSV file.
Step 1

Choose File > Import and Export from the main menu.
Step 2

Select Export to a file.

Click the Next button.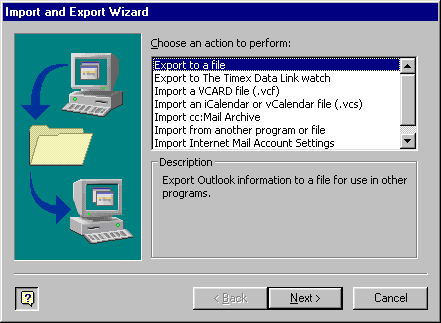 Step 3

Select Comma Separated Values (Windows).

Click the Next button.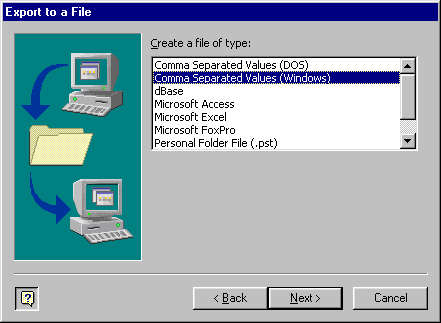 Step 4

Select Contacts.

Click the Next button.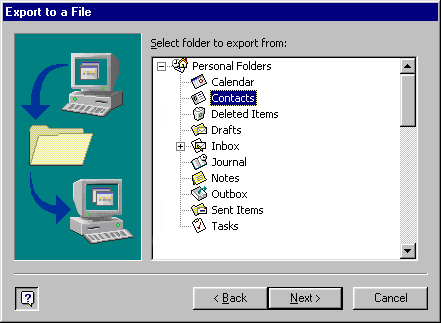 Step 5

Name the file and save it on your computer. (In the example, the file is saved to the desktop as "contacts.csv").

Click the Next button.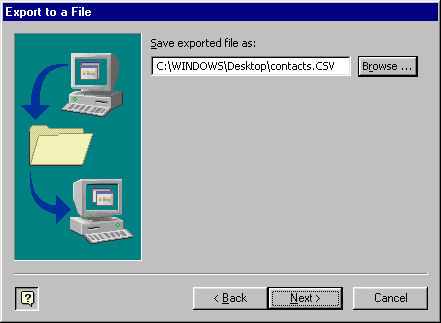 Step 6

Click the Finish button.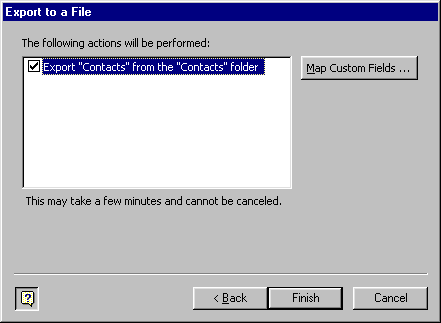 The file will be saved to the location you specified. Next, you will import this file into your Mailshell address book.
2.Import your contacts to Mailshell.
Step 1

Sign in to your Mailshell account and click the Address Book link in the dark blue navigation bar in My Mailshell, then click the Import Address Book link.
Step 2

Select Microsoft Outlook (.CSV file) from the pull-down menu.
Step 3

Enter the location of the exported file or click the "Browse" button to find and select the exported file.
Step 4

Click the Import button.

Your contacts will be uploaded and added to your address book. (Any information not supported by Mailshell's address book--phone numbers, street addresses, etc.--will not be added.)